Manipulation of our citizens
We are deeply concerned about what seems to be a pattern of manipulation of our citizens. David and I attended what was advertised to be a Family Picnic to Honor Our Local Veterans. This event was co-chaired by Mayor Jim Dear and local veterans' organizations held on Saturday July 12th at Dolphin Park.
Link to flyer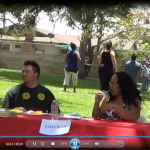 When we arrived we were asked to sign in and were given "Jobs for Carson" Stickers to wear. When we told them we did not want to wear the stickers we were told if we didn't wear them and fill out the card
we could not take advantage of the free food or participate in the drawing. We once again told them we were not interested. There were city of Carson commissioners who may be asked to vote on the Oxy Project aka Dominguez Energy Project wearing the Jobs for Carson stickers (in our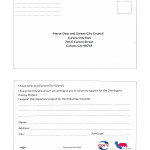 opinion Jobs for Carson is nothing more than a front group for the Oxy project). We feel that these commissioners should recuse themselves if this project comes before them. We saw signs for IBEW Local 11, Jobs for Carson and the Building Trades News we did not see any signs for our veterans. We would like to know why weren't signs for our veterans displayed?
Link to card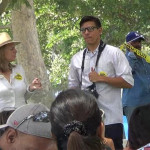 At the table next to us was a photographer ready to take a picture of a female guest. The woman asked him what was the picture for, he told her he didn't know, he was just doing what he was hired to do, as he shoved a Jobs for Carson poster in her hand, motioned for everyone to move in close and he snapped the photo.
Was this a picnic to honor our veterans or a promotional opportunity for the Oxy project?
It was reported to us that Watson Land and Oxy gave donations to our local branch of the NAACP. Are they really supportive of the NAACP or was this thanking our local NAACP president for his support of their project? We welcome the honoring of our veterans and other local groups and the supporting of our local organizations. However, we will not be manipulated or bought.