JOBS FOR CARSON = CALIFORNIA RESOURCES CORPORATION = OXY
February 14, 2014 Occidental Petroleum to Separate its California Business, Creating Two Independent, Publicly Traded Energy Companies
Link to complete press release
March 2014 Councilman Albert Robles called for a moratorium based on the fact that Oxy was moving to Texas and creating a California spin off. He likened it to getting married and having your mate switched at the altar. That is exactly what has happened.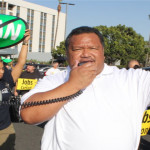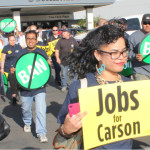 The above pictures shows Jobs for Carson leading the troops from the Doubletree by Hilton to the community center to attend the City of Carson's public hearing to extend our moratorium on oil drilling. Their purpose was to bully us out of our right to ever place a moratorium on oil drilling again in the history of the City of Carson by intimidation.
Jobs for Carson is California Resources Corporation in this brochure taken from Jobs for Carson website the only contact information given is Jobs for Carson.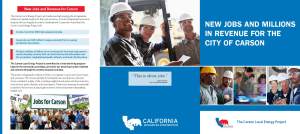 In this July 10, 2014 press release Occidental Petroleum is announcing its leadership team for its subsidiary California Resource Corporation.
Link to complete press release
Participating in the Manipulation
Mayor Jim Dear and Councilman Elito Santanrina are participating in the manipulation of our residents. They are hosting and inviting residents to picnics where if they want to eat they have to wear a Jobs for Carson sticker. This is leaving our resident feeling good about Jobs for Carson and when they come to protest 200 oils wells they will be asked to wear a Jobs for Carson sticker.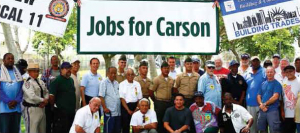 July 12, 2014 Mayor Jim Dear with his Jobs for Carson sticker on taking advantage of our veterans by taking this photo that is in the above Oxy brochure.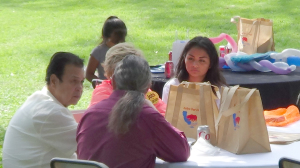 September 20, 2014 Back to School Picnic with Oxy bags on the table.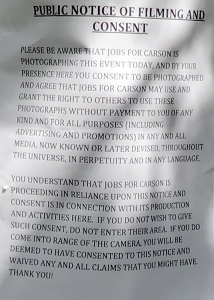 At the September 20th Back to School Picnic David and I were confronted by a Carson Commissioner she felt bullied by my taking pictures. What about the fact people are unknowingly showing up in Oxy promotional material. At this picnic Jobs for Carson/Oxy posted notices if you go into this section of the park your photo may be used for advertisement.
The photo below is being used by Oxy on Jobs for Carson Facebook page the same commissioner that didn't want her picture taken is allowing Oxy to use it for the Oxy project.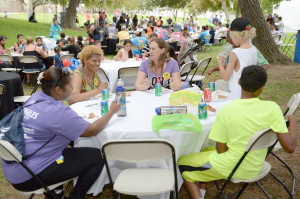 October 02, 2014 Occidental Petroleum Announces Dividend, Approves Spin-off of California Resources Corporation and Increases Share Repurchase Authorization
Link to complete press release
October 02, 2014 Occidental Petroleum's Board of Directors Approves Spin-off of California Resources Corporation
Link to complete press release
Many residents of Carson have stated when faced with the team of bullies Jobs for Carson lead into our public hearing they've never been so frightened in their entire life. Does this city council encouraged and supported this treatment of our people?
I want to make sure everyone knows if they attend a Jobs for Carson/California Resource Corporation/Oxy picnic or event their your photo may be used in the support of the Oxy Project and inviting drilling back into Carson.
Please inform everyone you come across that lives in Carson just who Jobs for Carson is the front for Oxy and the opening of the door for new drilling in Carson.