While the District Attorney's office case against Albert Robles for holding two incompatible offices approaches Carson City Council votes to exonerate themselves of that very crime, which they state in this video they are presently committing.
Would the City of Carson be better served by a Mayor that is not serving two masters?  We want to hear from you lnoflin@carsoncaconnected.org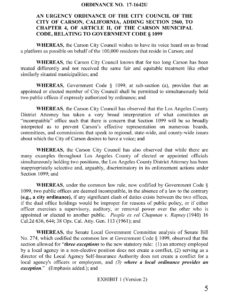 Ordinance as presented to public
The People of the State of California on the Relation of the
DISTRICT ATTORNEY OF THE LOS ANGELES COUNTY, Petitioner,
v.
ALBERT ROBLES, an individual, Respondent
CASE NO. BC 608075
Related to Case No. BC642232
Assigned to the Hon. James C. Chalfant
NOTICE OF HEARING
Date: January 25, 2018
Time: 9:30 a.m.
Department: 85
We urge you to read the complaint filed against Albert Robles and judge if the rights of the Carson residents have been trampled on since he took office.  Click on document below to access complete complaint.