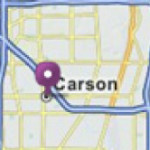 On September 12, 2012, the City of Carson had 309 full time employees; of those 309 full time employees only 108 were Carson's residents, 727 part time/seasonal positions 407 were Carson's residents.
The numbers tell the whole story. Carson residents are suitable to hire for part time/seasonal work but, the full time positions seem to be for the most part reserved for non-residents.
California law prevents the city from requiring employees be residents. It does not prevent the city from hiring Carson residents.
There are 50 funded vacant positions at city hall and it is important for many reasons we fill those positions with Carson residents.
According to Homefacts.com March 2013, Carson's unemployment rate (10%) is higher than the national average (7.6%). Surrounding cities like Torrance (4.9%) and Cerritos (5.4%) are around 50% of Carson, the entire state of California (8.6). We need Carson Jobs for Carson Residents to reduce the unemployment rate in Carson.
Contact the City of Carson Human Resources
Ask them to fill the more than 50 finded vacant positions with Carson residents. Let your family and friends who live in Carson know we need them to fill these positions.
HOW TO APPLY
City of Carson applications are not available online at this time. Applications may be obtained from the Human Resources office inside Cason City Hall at 701 E. Carson Street, Carson, CA 90745. Business hours are 7:00 a.m. to 6:00 p.m., Monday through Thursday. The City Hall is closed on Fridays and holidays. To obtain an application by mail please call the City of Carson 24- hour Job Hotline at (310) 952-1700 extension 1355. A completed original application must be received by Human Resources to be considered in the selection process. A resume may be submitted with, but cannot substitute for a completed original City of Carson employment application.
Call or email city hall and ask them to put a resolution on the agenda for the next city council meeting.
Carson Jobs for Carson Residents.
We feel it should be the policy of the City of Carson to give qualified applicants living within the city limits be given special consideration. This policy is designed to encourage employees to maintain a commitment and involvement with the community in which they live and with the government which employs them.
City Manager's Office 310 952-1755 Jackie Acosta jacosta@carson.ca.us
City Council's Office 310 952-1700 ext. 1000
Jim Dear Email: jdear@carson.ca.us Elito M.
Santarina Email: myfrancisone@yahoo.com
Lula Davis-Holmes Email: lholmes@carson.ca.us
Mike A. Gipson Email: mgipson@carson.ca.us
Albert Robles Email: arobles@carson.ca.us