Carson Chamber of Commerce Connection
Carson residents were robbed of our voice and the protection of our moratorium.
The Carson Chamber of Commerce lead the charge and participated in the busing, feeding and instructing union members and the business community what to say at our public hearing. They have mailed out fraudulent claims of this project being an environmentally friendly natural gas production project. Carson Chamber of Commerce President John Wogan and Chairman Walter Neal have publicly stated they have not read the Draft Environmental Impact Report. It was also stated that the Carson Chamber of Commerce Board of Directors voted unanimously to approve the Oxy project.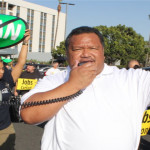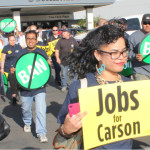 Tommy FaaVae leading the troupes from their briefing at the Carson Doubletree to the public hearing at the Carson Community Center
 April 18, 2014
Important Public Safety Message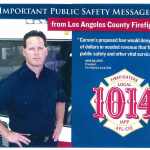 Flyer sent to residents by Jobs for Carson, with return address being an incorrect post office box in Carson.  This flyer included a letter from David Gillotte, President of the Firefighters local 1014 IAFF AFL-CIO union located in El Monte, CA, and fraudulently claimed that revenue from extraction funds essential services including police and fire that could affect response time.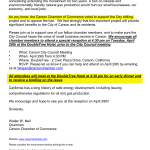 April 23, 2014
High Importance
Email sent by the Carson Chamber of Commerce to their members inviting the business community to attend a special reception at the Doubletree, prior to the hearing to extend our moratorium, for dinner and to receive a briefing on this issue.  They have fraudulent claims of this project being an environmentally friendly gas production project.   "A ban on reliable and environmentally friendly natural gas production would hurt our small businesses, our economy, and local jobs".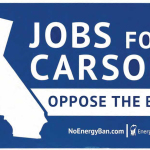 April 28, 2014
Jobs for Carson
Postal card sent by Jobs for Carson with the return address being the Carson Chamber of Commerce address.  This card is representing Chairman Walter Neal stating the ban is a strike at the heart of Carson's economy that will destroy jobs in our city and hurt numerous small businesses.  This post card includes an invitation to dinner at the Doubletree where they have planned to brief everyone on the issue.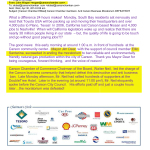 April 30, 2014
Carson Chamber members: Anti Carson Business Moratorium DEFEATED!!!
Email sent by Carson Chamber of Commerce claiming victory "Chairman of the Board, Walter Neal, led the charge of the Carson Business community that helped defeat this destructive and anti business ban".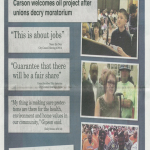 May 4, 2014
THANK YOU CARSON!
Daily Breeze article paid for by Jobs for Carson stating that "Thousands of local residents, small business owners and working families say "THANK YOU CARSON."  This paid ad contains quotes by Mayor Jim Dear, Councilman Elito Santarina and Councilman Mike Gipson, who betrayed the residents of Carson when they failed to extend our moratorium.
Carson Chamber Of Commerce 2013-2014 Board of Directors
Voted unanimously to approve the Oxy project
John Wogan
President Carson Chamber of Commerce
Walter Neil
Tesoro Refining and Marketing
Chairman of the Board Carson Chamber of Commerce
Chairman Carson Economic Development Commission
Barbara Jackson
Phillips 66 Company
Mat Melendez
Shell Oil
Catherine Davis
Nu Vision Federal Credit Union (Tesoro)
Shannon Dean
California Water Service Company
Janet Keene
Doubletree Carson
Jamilah Lang
Waste Management
Jean Bell
The Executive Service
Jeremy Brown
Raymond James Financial Services
Richard Chang
Premiere Printing & Graphics
Merial Jackson
Automated Business Services
Tara O'Brien
Kaiser Permanente
Michael Stewart
Grumpy Old Men
Steve Straub
Price Transfer
Tamala Lewis
The Stubhub Center
Bill Carrigan
Alcoa Fastening Systems
Andy Dilsaver
Edward Jones
Chris McWilliams
Air Products
Mike Noble
Yoplait/General Mills
Lena Whittaker
Magnificent Events
 Link to Carson Chamber of Commerce 2014 Membership lists (businesses the Chamber is representing)