Carousel Tract Neighbors & Erin Brockovich Community Support Rally
Friday, March 8, 3013 ~ 4:00 PM – 6:00 PM
Come support our Carousel Tract Community Join us as we walk from Dolphin Park to the Shell (Approximately ½ mile) Since 2008 the residents of the carousel tract have been knowingly living with benzene. The American Petroleum Institute in 1948 stated that
"it is generally considered that the only absolutely safe concentration for benzene is zero". Benzene targets liver, kidney, lung, heart and the brain and can cause DNA strand breaks. Benzene causes cancer in both animals and humans.  
This retired oil tank farm was improperly cleaned up and a community built on top of it. Shell has been found to be responsible but families are left no choice but continue to live there while shell decides what to do.
If you can't make it to the rally you can still help. Call Shell at (310) 816-2051 Tell them it's unacceptable to allow anyone to live in these conditions. After 5 years, the time for testing is up IT'S TIME TO ACT.
Please forward this to everyone you think would like to stand for the right to a safe and clean place to live. You can take a look at what they are being forced to live with: Carousel Community.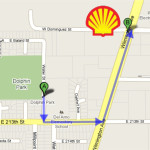 Starting Point: Dolphin Park 21205 South Water Street Carson, CA 90745 Ending Point: 20945 S Wilmington Ave. Carson, CA 90810
NOTE: Arrive at Dolphin Park at 4:00 p.m., march to Shell at 4:30 p.m., and demonstrate for 1 hour, until 5:30 p.m., returning to park at 6:00 p.m. I
f you cannot make it to the park first, please still join us at Shell when you can!!!
We'll have rally signs, but feel free to make some of your own!
For more information please contact: Barbara Post, President Carousel Homeowners Association at (310) 834-9338 or barb.post@sbcglobal.net
Keep this from happening to your community! Sign the online petition today. "No New Drilling in Populated Areas"
 Or, print a hard copy "No New Drilling in Populated Areas" to have your friends and family sign. 
You can read about these plans on the Carson website Proposed Oxy Oil Exploration Project