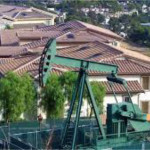 Beverly Hills and Torrance, California both came up with ordinances that allow NO NEW DRILLING at no cost to the city or its residents for this ultimate protection.
Hermosa Beach residents only have to pay E & B Natural Resources their investment to stop oil drilling.
The elected officials here in Carson California have voted to make the residents responsible to pay the oil interests their expected profits, which is more than 4 billion dollars (in North Carson) just to stop fracking. 
In the attached letter from Carson Companies, you will see the reason Carson Companies wants it to be their expected profit rather than their investment.  The mineral rights for the most part have been gifted (minimal investment) hence the need to put the people on the hook for more than 4 billion dollars.  Look a little closer at the letter you will see they estimate the investment backed expectation to be up to 4 billion dollars (this is in regards to the Dominguez field only).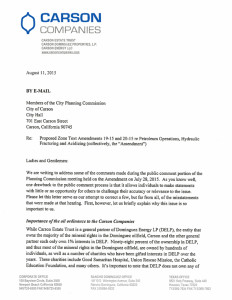 In the attached letter Earthjustice representing various organizations speaks about this loophole and the extreme risks Carson city council is forcing into our communities.
When you moved to Carson:
Did you expect your elected officials to rewrite the history of your city from stopping bad projects that cause contamination to inviting them in?
Did you expect to hand up to 20% of you property value to the oil industry (it will be more once the earthquakes become regular)?
Did you expect oil wells 750 feet from homes here in Carson?
Did you expect oil drilling directly under your home?
Did you expect oil drilling and everything that comes with it like earthquakes to destroy the foundation of your home?
At this point with 74 wells, this ordinance allows to be utilized 7,400,000 gallons of water each week.  Each week the oil industry flushing 233,036 tons of contaminated water under our homes here in Carson, this could very quickly double with the passing of this ordinance.
This is exactly what the people who are running the City of Carson are inviting into the South Bay.